Awards
---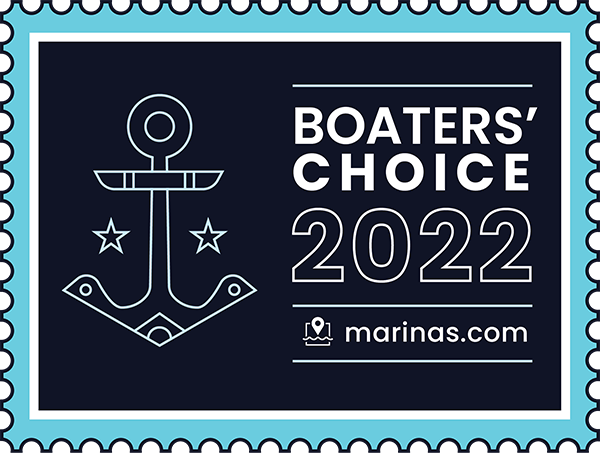 About
---
Sassafras Harbor Marina is open year round.
Sassafras Harbor Marina is located seven nautical miles up the Sassafras River on your port side as you approach the Sassafras River Bridge. We offer open floating docks as well as fixed open slips and covered sheds.
• Contacting SHM – During the season, we are open from 8:00 AM to 5:00 PM. We can be hailed on channel 16 on the VHF, and at the time we will switch you to our working channel of 71. If you do not have a functioning VHF, you may reach us in our marina office at (410) 275-1144.
• Marine Store - Sassafras Harbor Business Center is home to our Marine Store & Heron's Nest Gift Shop. Our marine store provides everything a boater will need to keep their boat looking great and running at peak performance. The Heron's Nest offers nautical gifts, toys and clothing items for men, women and children. We also have toys, collars and leashes for pets. We offer competitive pricing and can special order most items within two business days.
• Sassafras Harbor Café – Is located next to our marine store and gift shop, and serves breakfast (on the weekends), lunch and dinner. The Café is just a short walk from your boat, or you may call for delivery. (410) 275-4416
• Sassafras Harbor Marina Yacht Sales – Is located in the business center directly above our marine store and the restaurant. Our yacht sales is open daily. If you are looking for your next boat, or thinking of listing your current one – stop in. (410) 275-8000
• Dinghy Dock – Located along the bulkhead between B & C docks for your convenience to visit our marine store, yacht sales or café.
• Full Service Department - Offers professional assistance with all the repairs and maintenance of your vessel. We are equipped with a 70 Ton travel lift and provide service for gas and diesel engines, electronics, and prop reconditioning among other services.
• Swimming Pool & Activity Center with Pergola – Our 30' x 50' pool is located between our Activity Center and our Business Center. Weather permitting, the pool is open from 10:00 AM to dusk every day. Children under 14 years of age must be supervised by an adult over the age of 21. Please observe the rules before entering the pool, and absolutely no glass allowed in the pool area. Our Activity Center is located next to the pool. The first floor is equipped with pool and ping pong tables, and air hockey. On the second floor is a meeting room/lounge area and small kitchenette area. Enjoy eating at the picnic tables under our pergola.
• Basic Cable TV & Wireless Internet – is located at the slips. Stop in the marina office for a channel guide.
• Laundry Room and Book Nook – Is located between the restrooms in the lower level of the marina office building and has 24 hour access with key code.
• Ice – Is located under the steps of the marina office building. We carry 7 lb bags and 10 lb blocks. Please pay for ice in the marina office.
• Trash – Dumpsters are located next to the service shop and by "A" Dock. Please do not place bagged trash from the boats into our small trash cans.
• Please Recycle – Recycling containers are located throughout the marina and next to the dumpsters. We recycle plastic & glass bottles, aluminum cans and cardboard.
• Pets – We love our furry four legged boaters' also, and pride ourselves on being pet friendly – but pets that are not on your boat must be leashed at all times. Our dog walk area is located on the north side of George Street, not in the grass or landscaped areas along the docks or bulkheads. Doggy dodo should be placed in the dumpsters, not in the small trashcans. Only small pets are allowed in the marine store. No pets are permitted in the pool area, activity center or restrooms.
• Grilling - We love to grill too! Just not on the docks or boats (unless it is an electric grill). We have charcoal grills located in several areas throughout the marina by our picnic tables.
• Approach – Enjoy your scenic view of the beautiful Sassafras River as you cruise up to the marina. Once you enter into the No Wake Zone – hail us on Ch. 16.
We look forward to your visit.
Berth Capacity
---
Approach
---
Minimum Approach Depth:
12.0 Feet
Minimum Channel Depth:
0.0 Feet
Mean Low Water Dock Depth:
7.0 Feet
Mean High Water Clearance:
0.0 Feet
Services & Amenities
Last Updated: Jun 12, 2021
---
Water Taxi:
Within 5 Miles
Medical Facility:
Within 5 Miles
Car Rentals:
Within 5 Miles
Max. Vessel LOA:
120.0 Feet
Max. Slip Length:
100.0 Feet
Max. Slip Width:
0.0 Meters
Show All
---