Awards
---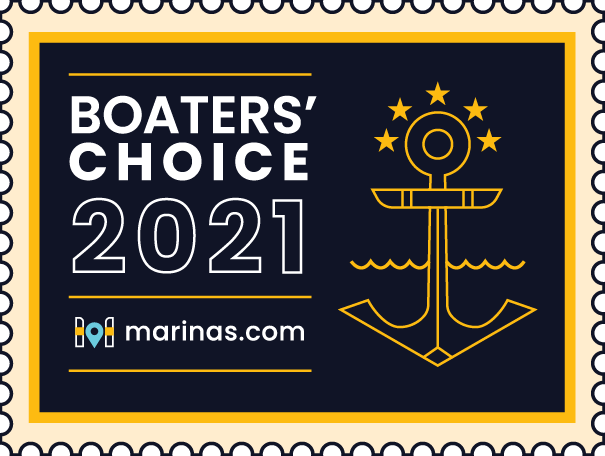 About
---
Thank you for considering dockage at Nashville Riverfront East Bank (T) Dock located operated by Lock One Marine in downtown Nashville, Cumberland River (mile 191). With your reservation at the docks, you have access to nearby bars, restaurants, restrooms, parks, and event center locations such as Nissan Stadium, Ascend Amphitheater Ryman, etc. Please read the below thoroughly before booking.
ELECTRICAL: The dock has (2) 30 and (1) 50 Amp/208 GFI breakers per pedestal, please ensure you are equipped with the latest grounding technology on your vessels not to trip the breakers.
LENGTH OVER ALL: Please input the Length Over All (LOA) of your vessel in Dockwa correctly, we have limited dock space and are typically full during the weekends, LOA Includes swim platforms, dingies, and pulpits that all extend past the vessel length. Expect to be docked within 2-3' of the nearest vessel as we try to maximize access to our dock being that we are so limited on space with 380' of linear dockage available.
GATE CODE ACCESS: To access the gate code please log into your Dockwa account within 24 hours of your scheduled arrival date. Select TRIPS and the most recent trip details for additional information. Pre-arrival emails are sent prior to arrival with Marina Map and Gate code access. Please lock the gate behind you as you depart or arrive back at the dock.
OLD HICKORY LAKE: Lock Master (we recommend calling ahead for barge schedule to plan accordingly): 615-847-3281. We do not issue refunds if the lock is full all day and they will not let you through until late in the day, plan accordingly.
FUEL & WATER: is not currently offered at our marina. If you are coming from downriver you can access amenities at Harpeth Shoals Marina (recommended for draft over 3.5') and Rock Harbor Marine.
Berth Capacity
---
Approach
---
Please review the attached "Marina Map" document to avoid docking issues. We've marked the location with a known underwater obstruction between the bridge pier and the docks, directly under the bridge 8-20' off the dock where the red-painted line is. All vessels with a greater than 3' draft should avoid this area. Please avoid the water under the bridge with 8-20' from the dock as your running gear may not have clearance. Please avoid dockage on the downstream end of the East Bank. The perimeter of this area will be painted yellow. This space is permitted and utilized by commercial vessels. Clearance Info: https://cdm16021.contentdm.oclc.org/digital/collection/p16021coll10/id/169
Minimum Approach Depth:
12.0 Feet
Minimum Channel Depth:
12.0 Feet
Mean Low Water Dock Depth:
18.0 Feet
Services & Amenities
Last Updated: Oct 14, 2023
---
Medical Facility:
Within 5 Miles
Car Rentals:
Within 5 Miles
Max. Vessel LOA:
125.0 Feet
Max. Slip Width:
30.0 Feet
Show All
---