Awards
---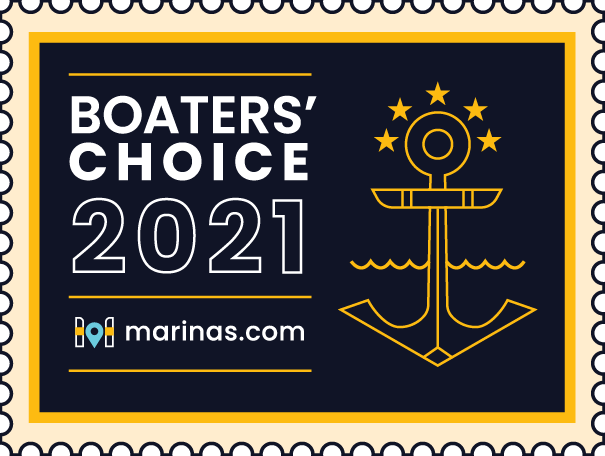 About
---
Our beautiful location along the Kent Narrows is a wonderful place to dock your boat!
Transients are welcome to an overnight or weekend stay at our private club or you can join KIYC to enjoy our club year-round and get a full lease (April 1st thru March 31st.) at a very reasonable rate or discounted transient rates. KIYC is easy to get to by car and puts you close to so much by boat. In addition to dockage, we now have 15 RV parking sites available for KIYC Members, Member quest and Reciprocating Yacht Clubs. RV sites are listed as moorings.
By boat, KIYC is just 11 miles from either Rock Hall to its north or Saint Michaels to its south. With Chester and Corsica rivers just to its north and Eastern Bay, Wye and Miles rivers to its south you can pick your game whether you want to fish, crab, sail, anchor out, visit historic towns, etc, etc. Knapps Narrows is just a short jump and Oxford just beyond that. Approximately 21 miles to Baltimore for City life with Aquarium, Museums, etc or to Annapolis with Naval Academy and all it has going on. Want to go further, you have the entire Chesapeake Bay at your call.
Afterward you can cruise back to KIYC to lay back and relax at an Eastern Shore pace while enjoying its serene setting and all the amenities. Close-by, visit the cross island trail, heritage center, environmental center and more. KIYC has very attractive slip rates (membership required) and when you want to visit other areas the list of reciprocal Yacht clubs is very impressive. Make KIYC your home port and truly enjoy all boating has to offer within easy reach.
And our POOL! Enjoy spectacular views of Prospect Bay while you are in our heated saltwater pool (open from April till September) order food from our Kitchen's full menu along with libations from our bar brought to you at the pool. Have fun at the TIKI Bar, sit on the patio or in the Lounge and enjoy a million-dollar view while making friends, eating great food, and partaking in beverages.
Be sure to go to our website www.kiyc.org and check out events to know music, car shows, special events happening.
Berth Capacity
---
Approach
---
Mariners need to be cognizant of the currents in the Narrows. They can approach or exceed 6 knts at times and you may want to consult tide chart. Also be aware that current is accelerated within the Draw Span area. Approaching from the South, Kent Island Yacht Club is on your port side with Transient dock and well first, followed by B and C Docks. The Narrows Draw Bridge is beyond C-Dock. Approaching from the North; you will need to traverse the Draw Bridge and you will find KIYC on your starboard side. C-Dock followed by B and then the Transient Dock and well.
Minimum Approach Depth:
6.0 Feet
Mean Low Water Dock Depth:
10.0 Feet
Services & Amenities
Last Updated: Jun 24, 2023
---
Medical Facility:
Within 5 Miles
Car Rentals:
Within 5 Miles
Max. Vessel LOA:
90.0 Feet
Max. Slip Length:
50.0 Feet
Max. Slip Width:
18.5 Feet
Show All
---